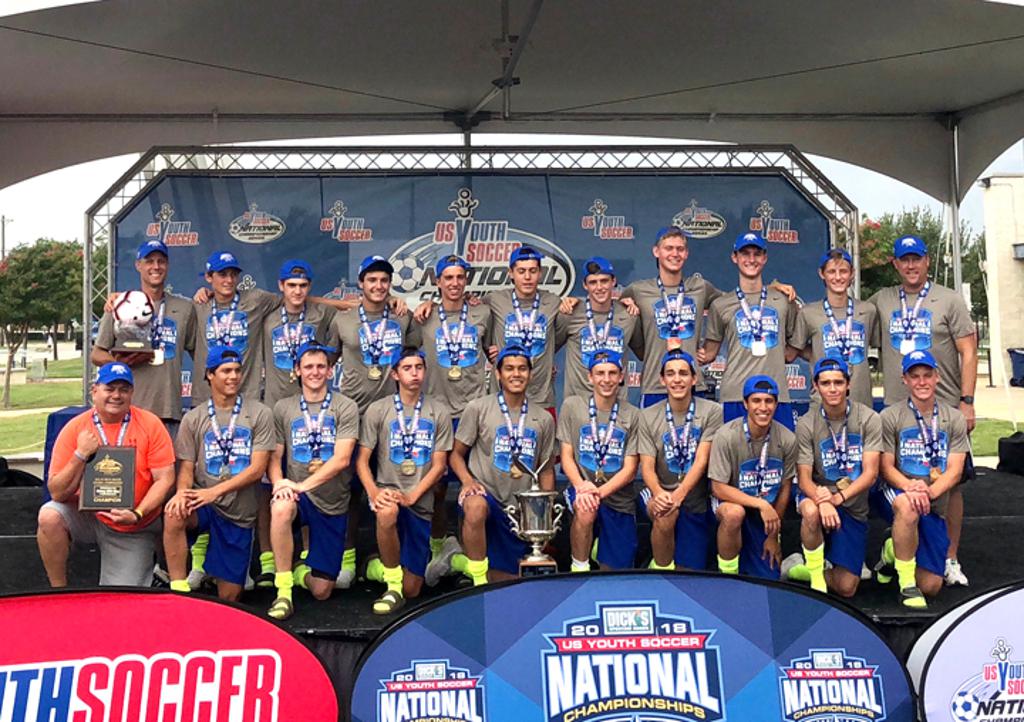 Jason Barba, Myles Barry, Rohan Bhargava, Kyle Blasingame, Noah Glorioso, Colin Iverson, Owen Jarrell, Ali Khorfan, Patrick Koenig, Ty Konrad, Evan Lang, Mason McCaw, Jose Navarro, Jack Olsen, Cesar Recendez, Nick Renfro, Natalio Rojas, Christian Romano, Zachary Smith,
Dylan Soto, Cameron Strang, Bryan Torres; Coaches Jay Konrad and Brett Strang
Galaxy 2001 Blue defeated the defending National Champion, Tampa Bay United (FL), 4-2 in overtime to claim the 17U Boys 2018 National Championship title. Earlier in the tournament, Tampa Bay defeated Galaxy, 3-1, in group play, but the championship matchup was a different game. Galaxy struck first in the 10th minute when a long throw-in was flicked on by a Galaxy player and Cameron Strang was there to volley the ball in at the near post. The Illinois side did not have a lot of time to enjoy the lead as Tampa Bay served a long diagonal ball for Trevor Stanley six minutes later, and Stanley brought the ball down for a left-footed shot into the top right corner. Tampa Bay took control of the game and stole the lead when Brennan Breuer sent a low driven shot from inside the 18-yard box.
Just as Tampa Bay was about to win the game, in the 90th minute, the ball found its way to Galaxy's Kyle Blasingame in Tampa Bay's 18-yard box, and Blasingame took the open shot. Two minutes into the first overtime period, Galaxy regained the lead when the ball was played into the box, and Evan Lang was there to pass the ball into the goal. Galaxy sealed the win with a Nick Renfro goal as he redirected a corner kick into the net.
Galaxy's Ty Konrad was awarded the Golden Ball as the MVP for his age group and he and Cameron Strang were named to the tournament's Best 11